Many of you might remember I kept my old 1996 S10 ZR2 extended cab pick-up as a UTV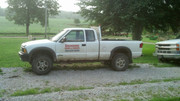 It would go any where my son's Ranger or his Gator would go except between close trees and was a good all around vehicle for checking cattle and chores around the farm. The ZR2 package gave it limited slip in the back, would go in 2 wheel drive where a lot of trucks would not go in 4 wheel drive.
Only 357,815 miles and the frame rusted into - - - the bed is holding the back end on and it is humped up in the middle like an old cow relieving herself on a rock!
Not worth fixing so I will part it out and look for another - - - I have a 2003 4 door 4X4 S10 ( same wheel base but a longer cab and a shorter bed ) and I am thinking about moving the ZR2 rear ends over as it does not go as well in the snow as I like so it might be my "new " UTV and the air conditioner still works on it!